This mainly contains the sizes and structure of layouts used in WoB. If you have questions, feel free to hit me with a PM.
Downloadable .PSD with Bloo's parts: http://www.mediafire.com/?2042dyh0qdv8d0a
---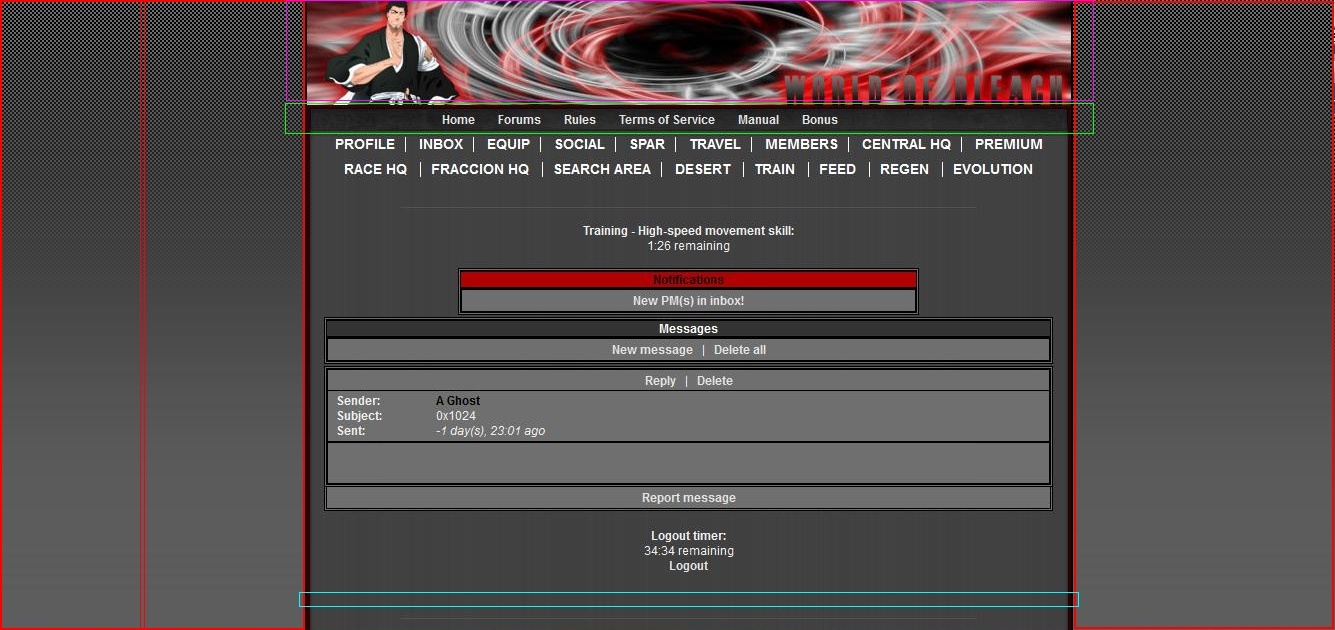 1. Main Background
The main background can be one big image, or a repeatable pattern as used in the layout above. The small column in red shows its size relatively well. Note that if you choose to use a big imagine, different resolutions make its looks differ. An okayish size might be ~1200x800 pixels, perhaps. It depends.
2. Container (text-area/background)
Width 768 pixels, height 1 pixel. The height doesn't have to be only 1 pixels. Now, this is mainly a pattern, or another repeatable image. It's repeated downwards, so make sure it looks alright and that there are no 'seams'.
3. Banner
The banner used in the example is 768x100 pixels. Do note that
the banner doesn't have to be rectangular
. I personally am not too fond of them.
4. Header (of container)
Width 768 yet again, and height 20 pixels. The header is made so it fits seamlessly to the container and banner.
5. Footer
There also is a footer that isn't in the image above. It can be found from the bottom of the page, and is where credits and such go. It's done similarly to header; made to fit seamlessly to the container.
Protip:
Crop the images so that there are NO transparent pixels around them (banner's sides are an exception, depending on the design). Also, save them in .PNG format, but keep a .PSD/.XCF (Photoshop / GIMP) file that contains all of the parts positioned as you wish them to be. The .PSD / .XCF file will most likely be asked if your layout design is accepted.
Remember to keep your layouts Bleach-themed!
_________________
Here is a riddle to guess if you can; Who is the monster, who is the man...?

Haruchi

Administrator





Posts

: 602


Join date

: 2010-11-20


Age

: 16


Location

: Chillin' with Santa.

Character sheet
Name: Bleh.
Title: Bleh'er.
Race: Hollow


Bleh, .PSD link added. Yes, it hsa only the parts of Bloo; no layer settings or anything. Those you'll have to figure out yourselves, for they are layout-specific anyhow.
_________________
Here is a riddle to guess if you can; Who is the monster, who is the man...?

Haruchi

Administrator





Posts

: 602


Join date

: 2010-11-20


Age

: 16


Location

: Chillin' with Santa.

Character sheet
Name: Bleh.
Title: Bleh'er.
Race: Hollow


i actually gave this a try xD and it sucks xD
heres a preview:
Spoiler:
no banner cuz i suck at those D8 and i felt like if i used an aizen render it would break the copyright law~
PSD file below~
http://www.mediafire.com/?cg24b27z4g7pvjc

orosan

WoB Moderator





Posts

: 436


Join date

: 2011-09-18


Age

: 69


Location

: Somewhere in time~

Character sheet
Name: Ωρωσαν
Title: Κωωκυ
Race: Fullbring



Genryuusai

Human





Posts

: 2


Join date

: 2013-05-17




Genryuusai

Human





Posts

: 2


Join date

: 2013-05-17



Similar topics
---
Permissions in this forum:
You
cannot
reply to topics in this forum